Banner Project
(adapted from Flash 5 by Bill Sanders and used with his permission)
Objectives:
to change the color of the stage
to use a shape tween (morphing) to create a color change in an object
to use a motion tween to create a size change in an object
to use positioning on the timeline to introduce an object
to introduce the Text Tool
to introduce an elementary Action Script
Basics:
the Free Transform Tool can be used to change the orientation of the object. Remember that when the cursor is moved near the corner block a circle will appear allowing the object to be rotated.
a keyframe is required at the end of a layer involving a shape or motion tween
the Pencil Tool has an Options menu
to do a shape tween the objects are not converted to a symbol and the objects are created on one layer
keyframes must be included when a new shape is introduced
certain objects lend themselves to the the process of morphing.
a motion tween can be applied to text if it first converted to a symbol
an Action Script can be used so that the movie only plays once
a Stop Action script need only be applied to one layer and the movie will stop
a little "a" indicates an Action Script has been applied.
Exercise
| | |
| --- | --- |
| Frame One View | Frame Eighty View |
a) Layers
no background layer will be included
change the color of the stage from white to blue by selecting the Properties panel and use the pop-up color mixer on the panel beside the entry Background.
four layers will be included: Moon rising, Welcome, Telephone and Letter
select the 80th frame for the 4 layers and insert Frames

b) Moon Layer
select the Circle Tool and change the Stroke Color Well to red and the Fill Color Well to orange
use the slider in the Properties Panel and change the stoke to 5
draw a circle with W = 350 and H = 350
use the Align Tool from the Modify Menu and select Center Horizontal. Make sure that To Stage has been selected.
to draw the inner circle

using the Black arrow select the circle that has been drawn and make a copy (Command C) of the circle
use the Paste in Place from the Edit Menu to paste a copy over the original circle
do not deselect anything at this point (do not click on anything on the stage)
select the Info panel and change the dimensions of the circle to W = 240 and H = 240
select the Stoke Color Well and change the color to white
select the Fill Color Well and change the color to dark green

select the Text Tool (capital A) from the Toolbox

in the Properties Panel select a Font (suggest Times) from the pop-up menu and Font Size (suggest 30) using the slider
select the color white for the text using the color mixer pop-up menu and select Bold
click on the inner portion on the smaller circle and type the message Animation 20 on the first line, Daytime on the second line and Productions of the third line.
if the text is too large select all the text by clicking on the A of Animation and dragging over all the text and using the slider select an appropriate size
click on the Black arrow key and using the four arrow keys on the keyboard center the text

select the concentric circle including the text using the Black arrow key and Convert to Symbol
select frame 1 of this layer and move the instance until it is just off the bottom of the stage
select frame 80 and insert a keyframe
move the instance until the top of the large circle touches the top of the stage. Keep the vertical alignment using the X value from the Info panel
double click on the first frame and from the Properties Panel select a Motion Tween
lock the layer

c) Letter Layer
select the Rectangle Tool and change the Stroke Color Well to black and the Fill Color Well to dark blue
draw a rectangle of dimensions W = 90 and H = 30
select the Pencil Tool and draw a flap for the envelope
select frame 1 and select the envelope using the Black arrow and position the letter just off the stage in the upper left hand corner
select frame 80 and insert a keyframe
drag the envelope to the lower right hand corner positioning it just off the stage
change the Fill Color Well to yellow and the color of the letter will change
double click on the first frame and from the Properties Panel select a Shape Tween
lock the layer
d) Welcome Layer
select the Rectangle Tool and change the Stroke Color Well to black and the Fill Color Well to gray
draw a rectangle of dimensions W =180 and H = 60
use the Pencil Tool and draw a flap on top of the rectangle illustrating an open envelope
change the Fill Color Well to light green and using the Paint Bucket color in the inside portion of the flap
select the Rectangle Tool and change the Fill Color Well to white
draw a rectangle representing a piece of paper stuck inside the envelope
select the Text Tool (capital A) from the Toolbox

in the Properties Panel select a Font (suggest Times) from the pop-up menu and Font Size (suggest 20) using the slider
select the color black for the text using the color mixer pop-up menu and select Bold
click on the paper portion and type the message Welcome To on separate lines
if the text is too large select all the text by clicking on the A of Animation and dragging over all the text and using the slider select an appropriate size
click on the Black arrow key and using the four arrow keys on the keyboard center the text

select the envelope and piece of paper using the Black arrow tool and Convert to Symbol
select frame 1 and position the instance off the stage in the upper right hand corner about a sixth of the way down from the top
using the Info panel change the dimensions to W = 60 and H = 20
select frame 80 and insert a keyframe
drag a copy of the instance from the Library and position off the stage in the upper right hand corner about a sixth of the way down from the top
using the Info Panel change the dimensions to W = 780 and H = 550
position of the instance so that the top of the paper is just below the top of the stage
double click on the first frame and from the Properties Panel select a Motion Tween
lock the layer
e) Telephone Layer
insert a keyframe at frame 60
use the Text Tool and select the Times font and size of 32
click on the lower left hand portion of the stage and type the number 683-7800
select the number and Convert to Symbol
using the Info Panel resize to W = 60 and H = 20
click on frame 80 and insert a keyframe
select the instance and change the size to W = 180 and H = 60
double click on the 60th frame and from the Properties Panel select a Motion Tween
lock the layer
f) Action Script
select the Moon layer and frame 80 or any of the other layers and frame 80
select Actions from the Window Menu
select the stop command from the Movie Control and double click on it
the script will be placed in the Script Window
or it may be dragged to the Script Window - the white rectangle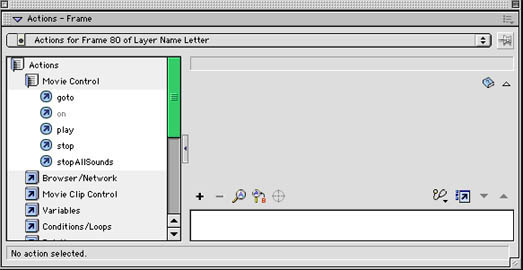 a little "a" appears above frame 80